Product Watch: NECA Formally Announces HBP Figures, New HP Ornament, PostCard Series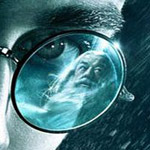 Jul 01, 2009
Our Harry Potter and the Half-Blood Prince product watch continues today, with updates regarding action figures, new ornaments and a special postcard series. First, NECA who holds the North American license for many of the Harry Potter products, has formally announced their line of Half-Blood Prince action figures. While we have reported on these many times previously, you can see the new figures that will be available in 7″ and 3 3/4″ sizes this month including:
Harry Potter in the Cave Scene: After he and Dumbledore learn what it's going to take to defeat Voldemort once and for all, they travel to a seaside cave to find a Horcrux and wind up doing battle with Inferi. Nothing's ever simple. Figure includes a magic wand and display stand.
Ginny Weasley in School Outfit: Ron's younger sister, Harry's love interest and a pure-blood witch to boot, Ginny has no shortage of roles to play in Dumbledore's Army, which, incidentally, she named. Figure includes a magic wand and display stand.
Draco Malfoy in School Outfit: He may or may not be a Death Eater, but Draco Malfoy, like his father before him, is definitely up to no good. Dumbledore had best tread lightly. Figure includes a magic wand and display stand.
Mad-Eye Moody: Alastor Moody, nicknamed Mad-Eye because, well, he's got a crazy eye patch, is a veteran of the first wizarding war and a powerful ally in the Order of the Phoenix. But just be careful because that mad eye of his, like everything else at Hogwarts, is magical. Figure includes staff and display stand.
Lord Voldemort: In the world of Harry Potter, Voldemort is the root of all evil, and more than that, he's almost impossible to defeat. Will Harry be up to the task? Maybe, but even the best victories come at a heavy price. Figure includes wand and display stand.
Also, Hallmark has revealed their most recent Harry Potter ornament: Hagrid and a young Harry Potter with Hedwig. Finally, there is a brand new series of Half-Blood Prince postcard sets available, that will come with collectible mini figurines. Available in grocery stores here in the US, the press release notes the seven different sets include: Harry Potter, Hermione Granger, Ron Weasley, Albus Dumbledore, Rubeus
Hagrid, Lord Voldemort and Dobby. Each numbered set (1 through 7) of 15
postcards with photographs featuring the character from the Harry
Potter movies comes with its own figurine.
The collectible sets are available beginning July 1 in select super
markets including Publix Super Markets, BI-LO, Hy-Vee, Meijer, Strack
& Van Til, Giant Food, Scolari's Food and Drug Company and Big Y
Foods.