Video: Dan Radcliffe on MTV Alexa Chung and Late Night with David Letterman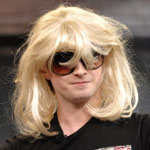 Jul 10, 2009
You betcha, Dan Radcliffe has a great sense of humor, as seen in two television appearances from yesterday. Last night Dan was a guest on the popular Late Night with David Letterman, and we now have the video for you (in iPod friendly form as well) here in our galleries.
Earlier in the day Dan was also a guest on MTV's "It's on with Alexa Chung" program that featured a very funny Dan as well, in ways we've never seen him. Screencaps here, and video of a must watch interview here and here. Enjoy!
Thanks to DanRadcliffe.com for the MTV video!