Rupert Grint Talks Music in New Interview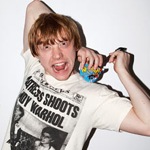 Jul 12, 2009
A new interview featuring actor Rupert Grint (Ron Weasley) in The Observer is now online, featuring a new photo of the young actor which can be seen right here. In this interview, Mr. Grint chiefly discusses his love of music, particularly the punk genre which he likes due to the "madness behind it. The craziness, the passion. And the whole anarchist thing is quite cool." Expressing his knowledge of the music, and of some its most popular bands, Mr. Grint relates his method for finding new music by saying: "I've bought albums simply because I like the look of the sleeve, like the Dead Kennedys' Frankenchrist. And I've also done that
because of funny band names, or funny song titles. I got the Kennedys'
Kill the Poor for the title alone." However, as Mr. Grint notes in the interview, his love of music does not necessarily equate to him fronting a band of his own. Quotegae:

"I wouldn't be like … Bono… I'd be happiest standing at the back, strumming my little banjo where
no one could see me." He grins. "Yeah," he says, "that would suit me
fine."
Many thanks to RupertGrint.net and Rupert-Grint.us for mailing!