Scholastic Kids Reporter Report from NY Premiere of Half-Blood Prince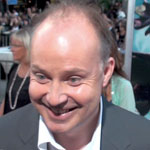 Jul 13, 2009
Scholastic, US publishers of the Harry Potter novels by J.K. Rowling, have released their Kids Reporter article on the premiere of Harry Potter and the Half-Blood Prince in New York City. Written by 11 year old Daniella, there is a fun bit relating to news from director David Yates on bloopers of the recent clip of the Trio sitting in Ron's room at the Burrow.
"There's a scene right at the beginning of the movie where we get
Daniel, Rupert and Emma sitting in the burrows talking about how old
Dumbledore is' he said. " I can't tell you how many bloopers we got in
that scene because they kept cracking up. I had to send them off the
set for a while!"He promised it would show up in outtakes at some point"maybe the DVD.
New York magazine also has an article online recounting the young reporter's interview with superstar Daniel Radcliffe as follows:
But it was his completely adorable interaction with a terrified 11-year-old reporter from Scholastic News
that won us over for good. Imagine half a dozen pushy TV reporters
shoving their mikes in Radcliffe's face as he zeroes in on a little
girl holding her microphone with both hands, voice shaking so much she
can hardly form sentences.
Radcliffe (to other reporters): "One moment, one moment. I will come back to you. [Locks eyes with Scholastic News girl] Hello!"
Girl: "Hey. I'm Danielle from Scholastic News."
Radcliffe: "Hello, Danielle! Pleasure to meet you."
Danielle: "This is an HONOR to interview you."
Radcliffe: "Oh, thank you. You're very sweet. Thank you."
Danielle: "I've seen the first and second movies
and read the first and second book and they are SO good. Especially the
movies. I loved them, the movies!"
Radcliffe: "Thank you very much. You're very, very
kind. They get even better than that, though, so when you get time or
when your parents think you're old enough, you must watch the rest.
They're very cool."
Danielle: "Um, and I have two questions. How are you most like Harry?"
Radcliffe: "I think in the way that we value our
friends. Friendship is very important in both of our lives. I think I
have Harry's natural curiosity as well. He's interested in a lot of
things in this world, as am I."
Other reporter: "Daniel, how¦"Radcliffe: "One moment, one moment."
Other reporter: "They told us to group together."Radcliffe: "It will happen. One second, sorry." [re-focuses on Danielle]
Danielle: "How did Harry change from the first movie to the second? I mean, the sixth?"
Radcliffe: "To the sixth? Well, he grew marginally
taller. The films have gotten a lot darker since that first film, so I
think he has had to get a lot tougher since then. Thank you very much."Danielle [holding breath, then nearly dropping mike]: "Oh. My. God. Oh. My. God. That was soooo cool!"
Related: Be sure to check out the new "Spot the Difference" game on the Scholastic Harry Potter site.