Deathly Hallows Updates: Krum Returns, Doge is Cast and More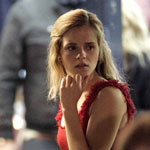 Jul 19, 2009
As production continues on Harry Potter and the Deathly Hallows, we have a few updates today. First, as long expected, TLC can report that Stanislav Ianevski will return as Quidditch champ Viktor Krum. As noted over the past few weeks, the Weasley wedding is due to be filmed shortly, with the Bulgarian champ due to make an appearance at the event. Also word has reached TLC from his agents that long time UK television character actor David Ryall (photo here) has been cast as Original Order of the Phoenix member and long time friend of Albus Dumbledore, Elphias Doge. Readers will recall of course, Doge writes the piece on Dumbledore for the Daily Prophet, and leads a spirited defense of the late Headmaster in conversation with Auntie Muriel (Matyelock Gibbs) at the wedding.
Finally, as filming has resumed on Deathly Hallows (with interior Malfoy Manor scenes shot last week as we heard on BBC1, 7 Potters and Wedding scenes due in the next few weeks), location shoots are still taking place. Yesterday in Golder's Green Park in London, England quick exterior filming took place, as noted by these high res photos of actress Emma Watson as Hermione Granger. Thanks JC for the pics!
Harry Potter and the Deathly Hallows part One will be released November, 2010, with DH Part Two released July, 2011.