Dan Radcliffe on Deathly Hallows, Cutting of SubPlots and Working with Michael Gambon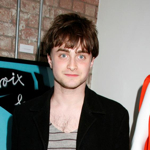 Jul 02, 2009
Dan Radcliffe is the subject of a new profile in the New Zealand Herald. In this run up to the release of Harry Potter and the Half-Blood Prince, we hear from the Harry Potter actor again on the dark material contained in the sixth film, as well as the lighter moments (There are huge opportunities for comedy in the sixth film and we use
all of them, even though my natural inclination is not towards that. I
love watching comedy but doing it is something else.") Dan also speaks very positively about working with acclaimed actor Michael Gambon, who portrays Professor Albus Dumbledore and has such an important role in HBP.
"I've always loved working with Mike, but I'd never had any big,
in-depth scenes with him. It was exciting, knowing we were going to get
a good run at those scenes. For the first four months it was just me
and him, which was great. Actually when the rest of the cast finally
came along, I thought, 'I don't like this'. I'd gotten so used to it
being just me and Mike, who by the way is one of the best actors I've
ever worked with, and probably the least professional. Which makes him
an absolute joy to be around.
He takes nothing seriously, is always having a laugh, yet somehow seems
to turn it on the moment the cameras start rolling. Because of our
lengthy time together it meant we had the chance to build up a great
relationship off camera and hopefully that translated on to the screen."
Of interest are new remarks about Harry Potter and the Deathly Hallows, which is currently in production in England. Dan speaks about the decision in the past to cut certain subplots from earlier Harry Potter films, and notes that with two parts of Deathly Hallows, there will be very little that has to be omitted. Quotage:
I'm very happy that the seventh book is being made as two films," notes
Radcliffe, "because I was worried they would have to cut important
scenes. For example in the fourth film you could cut out the house elf
sub-plot and it doesn't affect the main story in any way. In the second
film they cut out the Nearly Headless Nick Death Day Party. In fact
that whole character has fallen by the wayside. The problem with doing
that with the final book is that there is nothing that doesn't relate
to the main story or drive it forward. There's not much you could cut.
So we've given ourselves the room and opportunity to do it justice."
Thanks HPANA!