HPA Featured in L.A . Times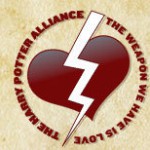 Jul 20, 2009
The ongoing efforts of the Harry Potter Alliance are featured again in the press, this time in a new article from the L.A. Times. Noting again the charitable and social awareness activities and campaigns by the group, the piece points out that the HPA and Harry Potter fans "accomplishments include signing up new voters at Wizard Rock the Vote
events, collecting over 13,000 donated books to give to local community
centers and a youth center in Rwanda and raising $15,000 for the
Genocide Intervention Network's civilian protection program for
displaced Darfuris and Burmese." In an interview with founder Andrew Slack, we also learn about plans for a new book involving the fans and the current "What Would Dumbledore Do" campaign.

"Using the recent release of the movie "Harry Potter and the Half-Blood
Prince" as a platform to re-energize a fan base that might be losing
interest after the culmination of the Potter narrative in 2007, Slack
is working on his own book and inviting Potter fans to assist in its
writing. It's called "What Would Dumbledore Do?" and he envisions it as
a self-help guide to living in the world according to the tenets of
Albus Dumbledore. He describes it as "Eckhart Tolle's 'A New Earth,'
but written through the prism of Harry Potter." To that end he has
asked fans to share what they've learned from Dumbledore on an open
blog at WhatWouldDumbledoreDo.org.

"[Dumbledore] is a fictional character, nobody here is delusional," he
said over the phone from his home in Boston, speaking at his usual
mile-a-minute pace, "but so many of us have looked up to him. He is a
comfort, a support. He is the wizard who always made Harry feel safe.
What does it mean to be like him? And how does that affect our view of
public policy? That's where things get really interesting."

Update: You can also see this scan of TLC staffer James featured in the UK Nottingham Evening News about his involvement with the HPA at the release of Half-Blood Prince.