Dan Radcliffe Talks to Esquire about Potter, Life, and More in New Interview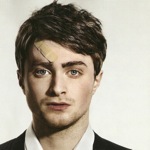 Jul 03, 2009
The August issue of Esquire Magazine features an eight page photo spread and interview with actor Dan Radcliffe. In this interview, the young Harry Potter actor speaks at great length about a number of subjects related to the Potter films, his life in the limelight, and his future. This most candid interview begins with Mr. Radcliffe talking of a recent injury sustained fighting a "giant snake" during a recent day of filming. He says:
"I was doing this scene where I fight a giant snake and, being the hi-tech, multimillion production that we are, the snake was being played by our stunt coordinator holding a long pole with a boxing glove tied to the end with gaffer tape. I was fending it off with a chair and was caught unawares. The chair went flying into my top lip. To be honest, it was brilliant because I saw the playback later and I go down like a bloody boxer!"
Mr. Radcliffe goes on to speak of life filming the Harry Potter films, calling the environment at Leavesden Studios in England by saying, "I've got all my mates there, it's a really safe environment and always has been… I love being there." He continues:
"You just immediately felt that you were in some band of brothers in the French Resistance or something. You were one of those cool ones suddenly, and I'd never been one of the cool kids at school, so that was awesome. You realize that all the kids who were really cool at your school were actually scuzzy and horrible and boring. The nerds are the ones that make the films and do loads of other really cool stuff in their life."
The magazine continues to discuss other elements of the young actors life, including his continued education and various media reports, many of which Radcliffe dubs "hilariously misinformed." As the interview comes to a close, the conversation turns to the future. Speaking of his current study of "the basics of ballet," he notes that "the thing is, in a few years I'll
be 21, 22, and that's when all the guys who've been at drama school
will come out. They've been learning dance or singing and all that
stuff, and I'm going to need to compete with them because I won't have
Harry Potter as my safety net anymore. I need to make myself as viable
a choice for any part as I possibly can."
One of those possible future projects, Radcliffe relates, has him portraying a father, which he says is "very strange." He continues: "Occasionally I'll be reading scripts for stuff that might happen in the middle of next year, and then I'm taken out of Potterland for a while. But this is basically where my head's at for the next year."
A slight caution for parents, this interview does contain discussion on a number of subjects that may be inappropriate for younger readers. The full series of scans from the August issue of Esquire Magazine can be seen right here.
Thanks to our Order Partner DanRadcliffe.com!