More on Ride Inside Hogwarts Castle at Wizarding World of Harry Potter Theme Park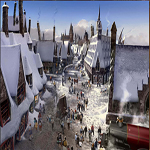 Jul 05, 2009
The Orlando Sentinel has an article online today, with more details on the upcoming Wizarding World of Harry Potter theme park attraction currently being built in Orlando, Florida. Readers will recall we've posted before regarding rumors and reports of a possible ride inside the giant castle of Hogwarts which will serve as the center of the new park at Universal Orlando. Today the paper states:
The castle will also house what is expected to be the Wizarding World's
signature attraction. Several people familiar with the project,
including one person directly involved, said the ride will be what's
known as a "robocoaster" " a ride system in which guests sit in seats
suspended from a robotic arm that can swivel and swoop in multiple
directions while it advances along a track.

Plans show the track snaking through more than a dozen scenes, though
what those scenes will be remains a mystery. The attraction, according
to the people familiar with it, will also feature an elaborate pre-show
queue with special effects such as floating candles and snow falling
indoors.
Other new details about the park which is expected to open early next year include a mention that Hagrid's Hut is being built along with plans "to re-create the Forbidden Forest, an ominous setting from the
books that's home to creatures such as centaurs, unicorns and
spiderlike "acromantulas." Finally, notable quotes come from discussion on what rides the park may include:
There is little yet to indicate what rides will be included in the
Wizarding World beyond the Hogwarts "dark" ride. Part of the Wizarding
World is being built in the Lost Continent section of Islands of
Adventure, and documents indicate that two existing attractions there "
Dueling Dragons, where riders choose between two intertwined roller
coasters, and the Flying Unicorn, a children's coaster closed last year
as part of the Potter construction " will be incorporated into Harry
Potter's world.

Both rides are expected to be re-themed with Potter story lines.
Records show, for instance, that Universal plans to add a large tent at
the entrance of Dueling Dragons, which fans have speculated will
ultimately be converted into a re-creation of a wizarding tournament
from one of the books in which one of the events involves stealing eggs
from dragons.