Harry Potter and the Half-Blood Prince Premieres Today in Japan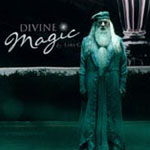 Jul 06, 2009
Tokyo, Japan is the site today of the premiere of Harry Potter and the Half-Blood Prince. Reuters is reporting that thousands of fans, many dressed in costume, lined up today for the premiere event. One fan is quoted as saying: "I was very disappointed when the release was postponed last year,"
said Yuta Endo, a 19-year-old university student, who watched the fifth
installment five times. "I was so looking forward to it and worked really hard to get a ticket for the screening today." Other fans were unconcerned that the popularity of Harry Potter had waned among some of their peers. "Some of my friends stopped reading the books after the fourth or
fifth installment," said Minori Wada, a 16-year-old student who said
she had read all the books. "But I will be a fan for ever."Endo said he was holding off reading the final volume of the series."I am scared to end it. I am not ready for it yet," he said.
We hope to have photos up from the premiere, stay tuned!