Helena Bonham Carter on Role as Bellatrix Lestrange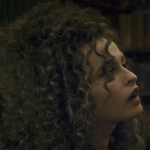 Jul 06, 2009
Helena Bonham Carter has given a frank and funny new interview to the Daily Record where she discusses her role, and her costume she sports in the role of Bellatrix Lestrange in the Harry Potter series. Currently winning rave reviews for her turn as the demented Death Eater in Harry Potter and the Half-Blood Prince, Helena reflects back to her orginial hesitation over the part in Order of the Phoenix, but was heartened after a conversation with Harry Potter author J.K. Rowling:
When she first read the script for Harry Potter and the Order of the
Phoenix, she was disappointed to see she only had a few scenes with
Daniel Radcliffe and Ralph Fiennes, who plays Voldemort. But Harry Potter's author stepped in to reassure her that the role would get better, and bigger."When
I showed some reluctance in playing a tiny part, J.K. Rowling said
Bellatrix's role was going to be significant in the last film," she
said. "But significant could mean a lot of things. That could just mean
a significant plot point. It doesn't necessarily equal a big part."
Ms Bonham Carter then goes on to give some very fun and candid new remarks on the look she sports in the Harry Potter films, as well as conversation with her co-star Emma Watson for Deathly Hallows. Quotage:
"Returning to the role of the gothic witch meant fitting Helena with a skyhigh hairstyle and a set of false teeth."You
have to keep them in so you get used to them," she said. "But you
forget they're in and if you then eat something, they break. That's
very expensive."To complete the look of the only female Death
Eater in Harry Potter and the Half-Blood Prince, Helena sports a gothic
corset and a pair of impressive boobs.
"I have chicken fillets," she explained.
So
when she finally got a chance to choose her cleavage, her first
instinct was to go for chicken fillets that were turkey-sized.She
said: "I thought it was my chance to have the boobs I've always wanted.
But my assistant said, 'You look like a porn star.' And that was not
the image I was going for."
For Harry Potter and the Half-Blood
Prince, Helena also helped Emma Watson by inviting the actress to her
house to talk through a scene where Bellatrix becomes Hermione after
taking a magic potion.Helena wanted to know everything about
Hermione in order to get the transformation right, but she also
reassured Emma that being a young actress didn't mean she had to worry
about her image all the time."I'm top of Heat's Worst Dressed list," she told Emma. "Who cares?"