New Clips from Harry Potter and the Half-Blood Prince: Slughorn and More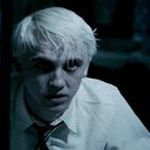 Jul 09, 2009
Hang on everyone, there are even more new clips from Harry Potter and the Half-Blood Prince now available courtesy of Collider.com. Notable is a new clip of Harry Potter (Dan Radcliffe) speaking to Professor Slughorn (Jim Broadbent) and asking about Tom Riddle. You can also watch a long clean video of the Sectumsempra confrontation between Harry and Draco Malfoy (Tom Felton) here, and a longer delightful clip of the Gryffindor Quidditch tryouts with McLaggen and Ron Weasley.
With our video galleries back in action, our crew has been hard at work adding in all the many videos we have posted about previously over the past weeks. Be sure to check out (in ipod friendly form as well) the following:
From this morning, video of the Trio at the Burrow discussing the age of Dumbledore
HBO "First Look" at Half-Blood Prince Part One
HBP "First Look" at Half-Blood Prince Part Two
Scoring session for Half-Blood Prince soundtrack
Preview for Sky Movies special on HBP
More will be added to this list soon, stay tuned!
Thanks Steven for emailing about the new clips, and to Chris, Maria and the entire video galleries crew!