Time Magazine Features Harry and the Potters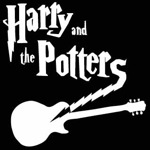 Jul 09, 2009
Our favorite boys from Boston are featured in the new issue of Time magazine, with a new article on Harry and the Potters. In a piece called "The Boy who Rocked," the article notes that Wizard rock "music about Harry Potter for people who think Harry Potter is awesome," and tells again the story of Paul and Joe Degeorge, the rise and popularity of the Wizard rock community, and the still flourishing Harry Potter fandom. Also mentioned are our own recent LeakyCon 2009 and the efforts of the Harry Potter Alliance and the recent "What would Dumbledore Do" campaign. Quotage:

The DeGeorges didn't realize it, but they had just invented a new kind
of music. It's now known as wizard rock, or sometimes just "wrock."
Wizard rock is pretty much what it sounds like: rock 'n' roll inspired
by and set in the universe of Harry Potter. Seven years after
that fateful barbecue, there are dozens of wizard-rock bands: the Remus
Lupins, Tonks and the Aurors, the Whomping Willows, the Moaning
Myrtles, DJ Luna Lovegood, Oliver Boyd and the Remembralls. Evil
characters can rock too: Draco and the Malfoys and the Parselmouths are
mainstays of the scene. Wizard rockers dress like Hogwarts students.
They play at conventions and clubs and wizard-rock festivals. There is
a Wizard Rock EP of the Month Club.

Wizard rock is just one aspect of a subtle transformation that's taking place in the world of Harry Potter
fandom. Two years after the last book was released, it's still going
strong, and it's showing signs of taking on a life of its own as a
cultural movement in its own right. Potter fan fiction continues to
flow onto the Net, extending the Potterverse out toward the horizon in
all directions, with the blessing of J.K. Rowling. There are two Harry Potter
conventions this year, LeakyCon in Boston in May and Azkatraz in San
Francisco in July (following the release of the sixth movie, Harry Potter and the Half-Blood Prince,
on July 15). Paul serves on the board of directors of the Harry Potter
Alliance (HPA), an activist group founded to promote the ideals and
values of the Harry Potter books in the real world. Under the
motto "What Would Dumbledore Do?" the HPA works to draw attention to
social problems like the conflict in Darfur.