USA Today on the Draco and Harry Rivalry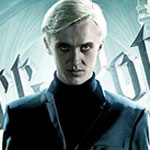 Jul 09, 2009
"Whereas Malfoy's becoming a fully fledged evil person, Harry is
maturing into this real fighter," says Radcliffe. "He's not a boy
anymore, he's a soldier who knows what he has to do. He's set himself
goals, along with Dumbledore. I see Harry becoming Dumbledore's
favorite foot soldier in this film."
So says actor Dan Radcliffe in the USA Today, echoing remarks made to TLC earlier tonight during our live broadcast of the premiere of Harry Potter and the Half-Blood Prince. In the newspaper article, the piece features an longer interview with both Dan and actor Tom Felton who weighs in on his character Draco Malfoy.

"He's been given a task to obtain the same greatness as Harry has,
working for the other side," says Felton. "He thinks he's going to do
it, and he revels in the chance to be the chosen one, if you will. He
likes to think he's equally strong-willed as Harry, and whatever Harry
can do, he can do better. But deep down, he knows he can't do it.
There's a real conflict of emotions." Felton relishes the spotlight. He particularly
enjoys playing Draco as a conflicted character, torn between his
ambition and some trace of inherent decency. His icy parents have bred
him to follow in their ominous footsteps, but he's filled with dread."If you're feeling sorry for him, then I've done my job," says Felton.
Director David Yates also speaks to the look of Draco Malfoy in Half-Blood Prince saying:

"I really liked the notion of Malfoy dressing
quite smartly," says Yates. "His father (Lucius Malfoy) is a bit of a
dapper dresser, too, and Draco's tailored clothes just give him a
really singular iconic shape. It's part of this aging of their world.
He cuts a figure. In class, they still wear uniforms. Out of class,
they start to express themselves, or their aspirational selves."Draco is particularly solitary in this film,
sans his slavish sidekicks, Crabbe and Goyle. His hair is longer and
more stylish, and he no longer has much use for the teacher he most
admired, Severus Snape (Alan Rickman)He has a job to do, and he seeks to prepare for it " without help.
Dan Radcliffe also gives his thoughts on the growing role Harry must take on in this film and the next, stating:

"Whereas before Harry's idea of things was always kind of vague and
idealized, this time Dumbledore sits him down and says, 'Look, if we're
going to do this, there are some things we're going to need to do, and
you are going to help me.' And Harry's more than willing to," Radcliffe
says. "This is not child's play. This is adult time now."
Thanks, Jackie!