The Crafty Half-Blood Prince Contest Launches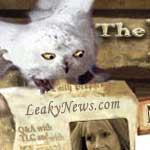 Aug 01, 2009
For the month of August, our Crafty Witches have come together to create our latest crafting contest which asks you to create an item of clothing or prop from the recently released Harry Potter and the Half-Blood Prince film. The Crafty Half-Blood Prince Contest is accepting recreations and reproductions based on those props or costumes which do not exceed a PG13 rating and were seen in the sixth Harry Potter film. Inspiration for the types of props and costumes seen in the film can be found right here in our Image Galleries. The submission portion of this contest is open now and runs through August 22nd. From August 23rd through the 30th, public voting on the finalists will take place in the Crafting Corner of the Leaky Lounge. The winner of this contest will be announced on August 31st.
Those interested may submit your entries to [email protected] Please attach your photos, a description of your craft, include your name and/or Leaky Lounge user name, and make sure to use "Contest Entry" in your subject line of your email.
The first place winner of this contest will receive 50 MyLeaky points, the inclusion of their work in our Image Galleries, and a custom avatar of their work. The second and third place winners will receive 25 and 10 MyLeaky points, respectively, while all of those who submit an entry will receive 5 MyLeaky points.
Good luck to all!