Behind the Scenes: A Look at Creative Packaging for Weasley Wheezes in Half-Blood Prince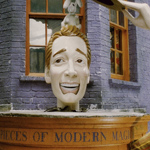 Aug 12, 2009
There are new looks online today at some of the packaging for products found in Weasley Wheezes joke shop, as seen in Harry Potter and the Half-Blood Prince. Creative Review has this look (and here in our galleries) at some of the packaging for humorous products such as "Magical Mustache Miracle Stubble Grow" and "Anti Gravity Hats" and more, with the designer Nicholas Saunders saying:
"I was briefed to work on the Weasleys Wizarding Wheezes originally,"
Saunders continues. "I was also asked to come up with a number of names
for more products (such as Anti Gravity Hats) to adorn
the shelves. Then after the product names were approved and cleared I
used the names as a base to start the designs. When the boxes were
ready they were printed on mass up to 400 then they were placed on
boxes of all different shapes and sizes. Then after this stage the set
dressers took them to fill three storeys [sic] of shop shelves in the shop on
the Diagon Alley set."
On his personal website, the designer also says he is at work again on Harry Potter and the Deathly Hallows.