Deathly Hallows Updates: Seven Potters Scenes Underway, Warwick Davis Confirms "Griphook" Role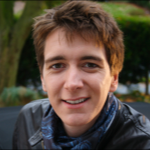 Aug 26, 2009
For those of us who have Twitter accounts, you will have noticed several mentions of the upcoming Harry Potter and the Deathly Hallows today. First, Warwick Davis has made a series of fun tweets with fans over the past few weeks (notably Snapes Ipod playlist), and then today confirmed again that in addition to his longtime role as Professor Flickwick, indeed he will be playing "Griphook" the Goblin in Deathly Hallows. Mr. Davis had noted he had been to Leavesden recently, possibly for the interior Shell cottage scenes which rumor had it were due to have been filmed recently.
Also of interest is a cool update from Oliver Phelps who said "Wicked days filming today. I can say I am the first actor in the UK to have a VFX MOVA facial capture scan. Exciting technology." Update: Oliver has now added this description: " MOVA is a system where by using 29 cameras and UV makeup and lighting can get very detailed motions of ones face." While it is unlikely this will be used for a 'Holey" George Weasley 😉 multiple reports previously have said use of this technology will be used for the Seven Potters as the actors all will be undergoing scans to have molds made of faces as they Polyjuice into Harry. Exciting and wicked days indeed!
Part One of Harry Potter and the Deathly Hallows will be released in theaters November 19, 2010, with part two due July 15, 2011.