Podcast Interviews: Dan Radcliffe Says "Quidditch Element" to a Ride at Wizarding World of Harry Potter, More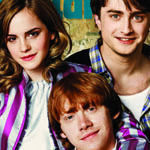 Aug 04, 2009
There are more interviews to tell you about, conducted during the barrage of press for the release of Harry Potter and the Half-Blood Prince. We now know of a series of delightful podcast interviews from Heart radio in London, England, where actor Dan Radcliffe (Harry), Emma Watson (Hermione) and Rupert Grint (Ron) answer a series of questions from fans. Dan Radcliffe admits he was skeptical about the new Wizarding World of Harry Potter theme park attraction being built in Orlando, Florida, but after learning about it and seeing the work lead by production great Stuart Craig, Dan is very enthusiastic about the park. He confirms that he and the trio have filmed a bit for the park, and also notes that there is a "Quidditch Element" as part of one of the rides. Dan also mentions the 'quite menacing' presence of Nagini the snake in Deathly Hallows.
Other interesting details come from Emma Watson who says once again that she does NOT have a Twitter, nor a Facebook nor a Bebo account. This is important to note because fans by the drove have owled regarding this question, and while she has denied this previously on her official site, she again dispels these rumors. Finally, in a fun interview with Rupert Grint we learn his personal ice cream truck is getting a paint job and will soon be on the road again, however he wont be selling any ice cream anytime soon as you have to have a special permit to do so-sorry folks! To listen to each of these, click here then iTunes will open for each of the podcasts (free) Enjoy!
Thanks to Snitchseeker!