Charity Auction Followup: JK Rowling Handprint a Big Seller at Event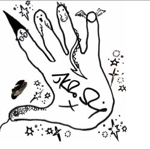 Sep 07, 2009
Previously we told you of a special hand print drawing J.K. Rowling donated for a charity auction being held in order to help a young girl who had lost her hands and toes to Menigitus. The auction for two year old Tilly Lockey has now taken place, with this marvelous handprint from the Harry Potter author (complete with a Dragon, snake, Hedwig, the Golden Snitch and Harry) selling for £6,000. The mother of the young girl tells Chroniclelive.co.uk that "So many celebrities donated hand prints to be auctioned and the
bidding went through the roof. The top seller was J K Rowling's for
£6,000 which was amazing because we only expected it to make about
£2,000." All the money raised goes to help provide Tilly new prosthetic hands which must be replaced each year until she reaches 18 years old. You can learn more about the efforts of the Give Tilly a Hand campaign here at this link.