Harry Potter and the Half-Blood Prince DVD to Include Feature on Theme Park; List of Deleted Scenes Available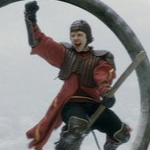 Sep 08, 2009
Great news today for fans eagerly awaiting the DVD for Harry Potter and the Half-Blood Prince. The British Board of Film Classification has now released the list of deleted scenes to be included, as well as news there is to be an 11 minute, 38 second feature on the new Wizarding World of Harry Potter theme park currently under construction in Orlando, Florida. Interestingly, the theme park feature is listed as both an video and online feature. As for the the deleted scenes from HBP, a sum total of 6 minutes and 31 seconds in length, the scenes are as follows:
00:00:26:17 ("HARRY AND HERMIONE WALK THROUGH HOGWARTS HALL" (SC. 85))
00:01:00:01 ("HARRY AND HERMIONE DISCUSS MARAUDER'S MAP" (SC. 95))
00:01:04:08 ("HARRY
RON & HERMIONE DISCUSS THE VANISHING CABINET" (SC. 118-119))
00:00:38:07 ("HARRY AND DUMBLEDORE ARRIVE AT CAVE ENTRANCE" (SC. 122))
00:00:19:07 ("HARRY AND DUMBLEDORE LEAVE CAVE" (SC. 124))
00:01:39:22 ("CLOUDS GATHER OVER HOGWARTS AS FLITWICK CONDUCTS CHOIR" (SC. 125-129))
00:00:40:08 ("HARRY JOINS RON
HERMIONE AND GINNY IN THE COMMON ROOM" (SC. 140))
00:00:42:16 ("HARRY AND HERMIONE DISCUSS RON AT ASTRONOMY TOWER" (SC. 142))
Thanks so much Matty!