Mrs. Lovegood's Experiment Contest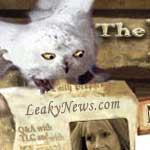 Jan 02, 2010
Our Contest Team have just announced their latest contest, Mrs. Lovegood's Experiment. The Team's January contest asks you to delve into your imagination and write a story about one of Mrs. Lovegood's experiments. While made-up spells and potions are acceptable, where possible please keep to canon from the books. The story must be 500 words or less and e-mailed to [email protected] before 11:59 pm EST on the 31st of January, with "Mrs. Lovegood's Experiment" in the subject line of the e-mail. Please only enter one story per person and bear in mind that all entries must meet the PG-13 rating. This contest is open to anyone 13 years of age and over who is not involved in the judging process.
The first place winner of this contest will receive a custom made wand from Wizard Wood Wands and 200 MyLeaky points. More information, including the full rules of the Mrs. Lovegood's Experiment Contest, can be found at this link. You can also find further discussion of all our contests in the Contest Corner Forum at the Leaky Lounge.
Best of luck to everyone!