Official Box Art for LEGO Harry Potter Video Games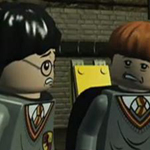 Feb 17, 2010
Warner Bros. has released official images of the box art for the each platform of the LEGO Harry Potter: Years 1 – 4 video games. The high res Xbox 360, Wii, PlayStation 3, Nintendo DS, PSP and PC Box Art images are now available as part of our full LEGO Harry Potter collection here in our Image Galleries. A press release notes:

LEGO Harry Potter: Years 1-4 will give gamers the chance to experience the magic and adventure of Harry Potter in a uniquely LEGO way. Playing as Harry Potter, Ron Weasley and Hermione Granger, as well as more than 100 other favorite characters, gamers will have the opportunity to attend lessons, cast spells, mix potions, fly on broomsticks and complete tasks to earn rewards. Throughout the game, players will also have the freedom to explore iconic settings from the wizarding world including Hogwarts castle, Diagon Alley, the Forbidden Forest and the village of Hogsmeade.
The games are slated for release in May of 2010.