New Details Emerge About Wizarding World Park, Rides, and More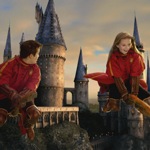 Feb 18, 2010
Update: We received word from Universal Orlando this morning regarding information posted in the Ledger article; comments made in the report about alcoholic forms of butterbeer are inaccurate. The Wizarding World of Harry Potter will not be serving alcoholic butterbeer at the park.
There is an article online this evening from The Ledger which reports on a recent meeting for Central Florida Vacation Property Managers Association which relates some new information about the upcoming Wizarding World of Harry Potter theme park at Universal Orlando Resorts. According to the Ledger, a sales coordinator from Universal spoke with the association, which represents "short-term vacation homes in Central Florida," and revealed details about the "family friendly" Flight of the Hippogriff roller coaster, the various shops around the park, and much more. Quoteage:

There will be shops as well, like Honeydukes, a candy store that will sell, among other things, chocolate frogs and Treacle Fudge. Dervish & Banges is a toy store that will sell, not surprisingly, broomsticks among the many selections. "Ninety-five percent of them are completely unique products' Holt said. "You will not be able to buy them anywhere else."
There's a Frog Choir that will perform five times day, Holt said, adding, "This is very top secret, so you're the first one's to hear about it."
The article goes on to say that the Harry Potter and the Forbidden Journey will be the "largest ride," and quoting the sales coordinator, Sarah Holt, as saying, "You'll go on this great journey specifically designed for this part of the park. It's ground-breaking, state of the art technology that will even surpass the Spiderman ride. If you've been on Spiderman, you know that's pretty big."
The Wizarding World of Harry Potter is slated for an opening in the Spring of 2010.
Thanks to UHP for mailing.