PotterCast 217: Show Us Your Face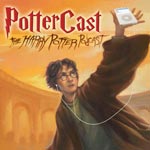 Mar 22, 2010
style="padding-top: 7px; padding-right: 7px; padding-bottom: 7px; padding-left: 7px; background-color: #ffffff; font: normal normal normal 13px/1.22 arial, helvetica, clean, sans-serif; ">

PotterCast, our Harry Potter podcast, returns this week with another dual audio/video edition of our 217th episode. In the news this week, we have for you information about the video game BAFTA nomination for the Harry Potter video game, more rumors about the split for the "Deathly Hallows" film, Ciaran Hinds on his role in DH, High Level Group name change to Lumos, and a new interview with Stuart Craig. The mailbag returns after the news with a big announcement about the way you can ask questions. Next, a new edition of Are You Smarter Than John Noe? gets going with a number of callers going head to head with our Noe. Finally, the drums bring the end of this episode with a electronix remix of our new PotterCast technology and so much more. The video version of this episode can be found on iTunes.
As a reminder, the LeakyCon DVD, which will be available to pre-order soon, will also include all wizard rock performances from our conference. If you like live wizard rock, be sure to reserve your copy of the upcoming LeakyCon Live Album of the wizard rock live shows at our LeakyCon 2009 conference. To listen, just hit the "Play" button on the right side of the page (->), or use iTunes, or direct download.
style="text-align: center; ">"Show Us Your Face"
"Oh no, my voice isn't dumb enough."
More "Deathly Hallows" film news.
Counting fail, much?
Terrible Surprises!!!
This is the last Mailbag as you know it.
Your face on iPods across the world!
Are You Smarter Than John Noe?
Percy Ingracias Weasley.
I'm a cat! Meow!
Follow our LeakyCon 2011 Twitter and become a fan on Facebook!
Reserve your copy of the LeakyCon Live Album now!
RT: 42:41Producer: John Noe
Also, special thanks to our ever-vigilant mods for monitoring the live PotterCast recordings.
LeakyCon 2011: A Harry Potter Conference in Orlando!"Harry, A History" WebsiteJingle Spells 3Podcast AlleyDigg
Direct download.
Low-band Direct download.
Remember you don't need an iPod to listen. Listen easily on iTunes, which you can download and install here, byclicking here to listen, or you can just use the streaming Flash player at PotterCast.com or just on the right side of this page. Discussion of the PotterCast is right here. Enjoy!