Two Video Previews for LEGO Harry Potter: Years 1-4 Game Now Online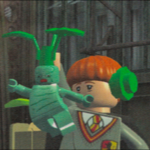 Apr 15, 2010
Two video previews of the upcoming LEGO Harry Potter: Years 1 – 4 game – each featuring a wide selection of shots of the game itself as well as interviews with developers – are now online. The first video from GameInformer, which you can watch here in The Leaky Cauldron's Video Galleries, includes shots of Harry, Ron and Hermione on the Wizard's Chess board, by Hagrid's Hut, in the Great Hall and more. Jonathan Smith, Head of Production at Traveller's Tales, is seen describing the game as "the most beautiful, the biggest, the deepest, the richest LEGO environment we've ever created," while all of the developers speak of the importance placed on the immersive quality of the game.
The second video, courtesy of VE3D, can be seen in our Video Galleries at this link and focuses on the development of the personalities of the game's characters. The preview runs through a list of many of the characters included in LEGO Harry Potter: Years 1 – 4 and briefly shows clips of a number of them in LEGO form. Senior Producer Loz Doyle cites Fang as his favourite aspect of the game, "because he is animated in such a charming way; he can climb ladders; he digs; he whimpers; he's like a real dog." Flying is provided as an example of how the game distinguishes between characters' personalities; the developers compare Harry's visible skill on the broom with Ron's slower performance, "[pushing] himself along" in flight.
LEGO Harry Potter : Years 1 – 4 will be available on the 29th June this year.