Reminder: Expeditious Registration Closes May 7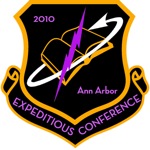 May 04, 2010
A quick reminder this morning that registration for the Michigan-based Expeditious 2010 conference will close on May 7th. Only a few spots remain for this weekend-long conference, which will take place over May 14-16 in Ann Arbor, Michigan. To reserve your place at the conference, click here.
The conference will kick off on Friday afternoon with a quidditch tournament at Eastern Michigan University, with the majority of its programming taking place at the Courtyard by Marriott in Ann Arbor on Saturday, May 15th. Afternoon events will also now include wizard rock performances from The Butterbeer Experience, I Speak Tree, and Undesirable #1, as well as a keynote presentation from Leaky's own Melissa Anelli. Saturday programming closes out with a ball with live performances from wizard rockers The Remus Lupins and Tonks and the Aurors. A Farewell Breakfast will close out the event on Sunday morning.
Registration for Expeditious 2010 costs $60, with optional $5 additional ticket to Melissa Anelli's keynote speech. Registration is now open– but going quickly– and can be purchased via this link. Full information can be found via www.thefifthhouse.org.