J. K. Rowling Light a Birthday Candle Charity Campaign for International Children's Day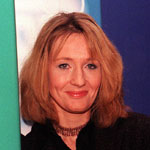 May 13, 2010
Lumos, the charitable organization co-founded by Harry Potter author J. K. Rowling, has organized a campaign to launch on June 1st, International Children's Day, in support of the countless disadvantaged children living in institutions across Europe unable to celebrate their birthdays. The Light a Birthday Candle for Lumos Campaign asks people from across the world to host a birthday party in support of this effort, as well as lighting a virtual candle for the children. A press release reads:

Lumos works to put a stop to the systematic institutionalisation of disadvantaged children across Eastern and Central Europe. Year after year, the staff who look after children in these large residential institutions cannot give them the one-to-one attention that they so desperately need. That is why 01 June is often chosen as a day to celebrate, however the notion of a child's individual birthday is lost ' with many children not knowing their actual birth date at all.
Lumos is asking families, friends, employees and community groups to raise vital funds by hosting a ˜birthday' party, lighting a candle, baking and bringing cakes to work, or by downloading a virtual candle and making a donation via mobile phones.
The funds raised will go towards Lumos' work, helping move children out of institutions and into family-based care, so that next year many more children will be able to celebrate their birthday properly.
For full information on how to become involved in this campaign, and donate to the cause, please visit www.lumos.co.uk.
Additionally, support for this cause may be given by filling out this short survey on children's birthday parties. Partnering with Netmums.com, Lumos hopes to "highlight the stark difference between the thousands of children living in institutions across Eastern Europe who are unable to celebrate their birthdays, and the types of birthday parties that most children in the UK enjoy," by taking the survey.
As readers will recall, last February Lumos, formally the Children's High Level Group, changed its name and shifted its focus to work "to transform the lives of disadvantaged children" and "end the systematic institutionalisation of disadvantaged children across Europe." The charitable organization is "assisting the Czech government to develop a National Action Plan for the reform of all its services for vulnerable children and families. It is now working in the county of Pardubice, helping the local authorities to transform all of their large residential institutions for children. In Moldova, the charity is supporting the government and local authorities to implement large-scale de-institutionalisation programmes as well as an initiative aimed at significantly reducing infant mortality."