Emma Watson Announces Winners of Today Show Class Trip Contest to WWoHP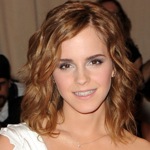 May 20, 2010
Actress Emma Watson (Hermione Granger) was on hand on this morning's broadcast of the Today Show to announce the winners of the Today Show's Class Trip to the Wizarding World of Harry Potter Contest. Appearing live via tellite from the theme park, Miss Watson reveled that all four finalists will be sent to the magical theme park care of Universal Orlando. Video of Miss Watson on the Today Show can be seen right here.
On a related note, the Universal Orlando News Twitter posted a photo of Emma Watson, Robbie Coltrane (Hagrid), Matt Lewis (Neville Longbottom), and James and Oliver Phelps (Fred and George Weasley) at the Wizarding World theme park. Posing on the streets of Hogsmeade, the cast "began their sneak peek tour of The Wizarding World of Harry Potter by entering Hogsmeade. The group was invited to Universal Orlando Resort for a first-look at the immersive environment, and will spend the day visiting many of the iconic locations made famous in the popular Harry Potter series." This image can be found in our Image Galleries.
As readers are aware, the WWoHP will open its gates for a grand opening on June 18.