Digital Versions of the Harry Potter Books in the Future?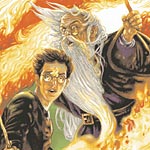 May 28, 2010
The Bookseller is now reporting that the Christopher Little Agency, the literarily agency representing author J. K. Rowling, may be coming closer to enteraining the idea of digital formats for the Harry Potter novels. The article quotes partner Neil Blair as saying the company is now "currently considering all the options and opportunities that this evolving space provides." The Bookseller continues:

The agency was "actively" looking, whereas previously it had just been "monitoring the developing area", he said. Richard Charkin, executive director of Rowling's print publisher Bloomsbury, declined to comment on whether Bloomsbury was in discussions with the author on e-book plans, saying: "That's between us and CLA."
While this news is certainly intriguing, no plans are currently set for digital formats or the Harry Potter novels.