Wizarding World of Harry Potter Has Soft Open; Images, Video From Inside Appearing Online (Updated)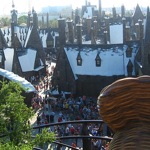 May 28, 2010
The Wizarding World of Harry Potter theme park at Universal Orlando opened its doors this morning for a "soft opening" for those individuals who purchased vacations packages back in February with the opening date of May 28. The Orlando Sentinel is reporting that special Wizarding World package holders were able "to experience the new attraction, which had a two-hour preview Friday morning for customer who purchased a special Harry Potter package at Universal Orlando Resort hotels." The report continues, noting that 'by early afternoon, everyday guests were allowed on the Dueling Dragons coaster. Entry continues to be through temporary construction walls that wind through the future Hogsmeade village. It provided a closer look at the shops and Hogwarts castle but no access. The coaster will be rechristened as Dragon Challenge and will have a new entry via Hogsmeade.'
InsidetheMagic.net has a first hand report from inside this morning's soft open online, which contains a slew of photos from inside the park, along with a video. Among the many details furnished by the site, the report relates:

To see the world found by the Potter films (and books) recreated in real life is breathtaking. I'm sure all the anticipation of getting inside fueled my excitement, but when I finally stepped into Hogsmeade Village, my eyes were wide open (despite being only on 4 hours of sleep) and I could not stop smiling.
While the rest of Islands of Adventure does an adequate job of transporting guests to another world, the Wizarding World of Harry Potter is truly immersive. Not only does it make you forget about the real world, it makes you forget you're even in a theme park. Around every corner guests will find something to laugh at, a smiling face to talk with (in character), and¦ plenty to spend money on.
…
Ollivander's Wand Shop is the highlight of all of the shop-based experiences. It is not required to pass through the shop to buy a wand. You can simply enter through the Owlry or Dervish & Banges and get one. But if you skip Ollivander's, you're missing a wonderfully magical show. The technology employed in the show is rather simple. A few moving items here, a few lights and sounds there. But it all pulls together, combined with some choice music and acting, to give everyone in the room warm and fuzzies. It is true that around 20-25 people are let in at once and only 1 out of that group is chosen to try out a magic wand as part of the show. But no one else seemed to mind. I certainly didn't. It's great fun to see what happens. The wait will be long at first, but it will be worth it.
…
Dueling Dragons has been one of my favorite roller coasters for a long time. Now that it is Dragon Challenge, the queue has a much more comprehensive story that leads up to the thrilling ride. Flight of the Hippogriff is a huge improvement over its former Flying Unicorn identity. While the Hagrid-based story didn't totally come across for me (all you get is a few scattered audio cues from Hagrid), the animatronic Hippogriff at the base of the coaster's lift hill is a wonderful touch. Moreover, the ride offers incredible views of Hogsmeade Village and Hogwarts Castle. It's a short ride, but should be enjoyed for the visuals if nothing else.
Update: The InsidetheMagic walkthough video is now available in our Video Galleries right here.
Update 2: Thanks to both InsidetheMagic and Attractions Magazine, we have an abundance of images from on the ground in the Wizarding World for you in our Image Galleries.
Stay close to Leaky throughout the day for all the latest. If you were on hand at the park this morning, please do let us know at [email protected]
Also, PotterCast will be doing a live podcast from Orlando, Florida this Saturday, May 29 at 6pm at the Cricketers Arms on International Dr. In the Festival Bay Mall. Full event info can be found on our Facebook Event page.