First Images of Dan Radcliffe at Tony Awards Online (Updated)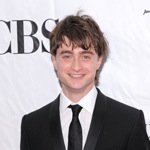 Jun 13, 2010
As readers will recall, tonight actor Dan Radcliffe (Harry Potter) will be presenting the award for Best Featured Actress along with actress Katie Holmes at tonight's Tony Award Ceremony on CBS. The first images are starting to come online from the event, and include this image of Mr. Radcliffe during a dress rehearsal earlier in the day. Live video is now being streamed of the red carpet via this link. More images and video are expected as the evening goes on, so stay close to TLC for the very latest.
Update: Images of Mr. Radcliffe on the red carpet can now be found here in our Image Galleries.
The 2010 Tony Awards will be broadcast live on CBS starting at 8pm EST tonight.
If you are able to capture Mr. Radcliffe's spot on the awards show, please do email us at [email protected]