Leaky's Wizarding World of Harry Potter Theme Park Video Preview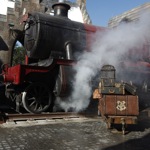 Jun 15, 2010
As part of our continuing coverage of the grand opening of the Wizarding World of Harry Potter attraction at Universal Orlando Resorts, Leaky has complied this video of our recent special previews of the theme park:
Containing all new clips, interviews, and information from inside the stateside Hogwarts, this video features a rundown on everything one can expect to see at the park, including:
The Dragon Challenge Ride
Butterbeer
Wizard Candy galore
Original Props from the Films
Ollivanders
The Hog's Head Bar
More Butterbeer
The food
Fluster the Conductor
The giftshop
Buckbeak Ride
and so much more!
Universal Orlando Resort's Wizarding World of Harry Potter will have its grand opening this Friday, June 18. Stay tuned for even more about the happenings around the theme park, for it is Wizarding World Week on LeakyTV.