New Trailer for LEGO Harry Potter Video Game, Reviews Coming Online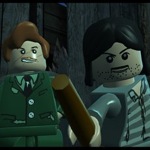 Jun 25, 2010
WB and TT Games let us know that a new trailer has been released online for the LEGO Harry Potter: Years 1 -4 video game. This launch trailer, which contains looks at all four years of the game, can be found right here in our Video Galleries.
In addition to this, a number of comprehensive reviews for the game have made their way online, and give more information about what to expect with this game. Eurogamer, which gives the game a 9/10, notes that:

Unlike Star Wars, Batman or Indiana Jones, Harry's adventures don't take him around the world, across a city or to other planets. Pretty much everything that happens to him happens in Hogwarts. Rather than allow this restriction to hold things back, TT Games has instead turned it to the game's advantage.
You no longer retreat to a hub area and dip into key set-pieces one by one. Instead, Hogwarts is a gigantic, continuous gameplay area full of living detail. When it's Christmas in the story, everyone wears Santa hats. When the Dementors arrive, looking for Sirius Black, students huddle in corners, terrified. When Gilderoy Lockhart arrives at the school, gaggles of cooing girls follow him around. It's lovely and hilarious.
The Metro also finds the game quite engaging, and says, in particular, "On top of this each character has their own special equipment and abilities, such as Harry's invisibility cloak or Ron's access to Scabbers the rat. Some characters also have natural aptitudes such as Harry's broomstick-riding, Harmione's spell-casting or Hagrid's strength. And there's the new concept of making potions by finding ingredients in a level and bringing them back to a cauldron (if you get it wrong the game turns you in to a frog as punishment)."
LEGO Harry Potter: Years 1 – 4 is available now in the UK, and will be released Stateside on June 29.