Announcing LeakyCon Lit Day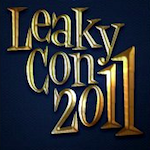 Jul 15, 2010
In the next couple of days, we will be opening registration for LeakyCon 2011, the second HP fan conference from Leaky, to take place in Orlando the weekend of the release of the last film. Before we do, we wanted to acquaint you with a new feature we're introducing, which aims to celebrate the part of publishing that gave us Harry: Lit Day!
Lit Day (which will be Wednesday, July 13, 2011) is a day-long (for now! it may turn into Lit Track or Lit Week) event focusing on those who write, edit and publish some of the most meaningful children's and young adult fiction on shelves today. It will allow attendees to learn about the industry from authors, agents, editors and publishers, in a track totally separate from regular LeakyCon registration, and open to the public. It will also feature a special reception that gives attendees the opportunity to interact with all the special guests.
This promises to be a very special day full of amazing information, panels, discussions, presentations, performances and more. We are adding industry professionals to the lineup as we go, and the entire event is being organized by acclaimed YA author Maureen Johnson. The current lineup includes:

Maureen Johnson is the bestselling author of such books as Scarlet Fever, Suite Scarlett, and 13 Little Blue Envelopes. A native of Philadelphia, Penn., Johnson attended graduate school in theatrical dramaturgy and writing at Columbia University School of the Arts. Her first novel, The Key to the Golden Firebird, was released in 2004. In addition to her novels, Ms. Johnson has worked as a scriptwriter for the "Harry Potter and the Half-Blood Prince" handheld video games and co-wrote the New York Times Bestseller Let It Snow with John Green and Lauren Myracle. An active Twitter user, more about Maureen Johnson can be found via her Twitter account and on her website, http://www.maureenjohnsonbooks.com/.

John Green is the New York Times bestselling author of Looking for Alaska, An Abundance of Katherines, and Paper Towns. He is also the coauthor, with David Levithan, of Will Grayson, Will Grayson. His novels have received much critical acclaim, including the Michael L. Printz Award and the 2009 Edgar Award. No stranger to the internet, Mr. Green releases vlogs along with his brother, Hank, on the popular YouTube channel, VlogBrothers, which began in 2007. John Green lives in Indiana with his wife and young song, Henry. More about John can be found on his website, http://www.johngreenbooks.com/.

Scott Westerfeld is an author of science fiction who has written five novels for adults and a three collections of novels geared to younger readers: Midnighters; Uglies; and a collection of standalone novels entitled So Yesterday, Peeps, and The Last Days. Most recently, Mr. Westerfeld published the first novel in his new series, Leviathan. Born in Texas, Westerfeld graduated from Vassar and attended graduate school at NYU. Westerfeld is married to fellow author Justine Larbalestier and splits his time between New York City and Australia. More information about Scott Westerfeld can be found on his website, http://www.scottwesterfeld.com/.

Justine Larbalestier is a writer of fiction and short film from Sydney, Australia. Author of the popular Magic or Madness trilogy, Ms. Larbalestier has also written the novels How to Ditch Your Fairy and the acclaimed Liar. In addition to these novels, her pen has authored a number of short stories, as well as a short film about the legend of King Midas. Today, Justine Larbalestier is married to fellow author Scott Westerfeld and divides her time between Australia and New York City. More information about Justine Larbalestier can be found via her website, http://justinelarbalestier.com/.

David Levithan is a writer of young adult fiction, who most recently co-authored Will Grayson, Will Grayson with fellow YA author John Green. His works include Boy Meets Boy, Wide Awake, and Nick and Nora's Infinite Playlist. Born in New Jersey, Levithan became an intern at Scholasic, and now holds a post as Editorial Director for the company. In 2002, Levithan founded the Scolastic imprint PUSH, which focuses on publishing young adult novels. More about Mr. Levithan can be found via his website, http://www.davidlevithan.com/.

Libba Bray is a native Texan and writer of such young adult novels as A Great and Terrible Beauty, Rebel Angels, The Sweet Far Thing and the Printz Award-winning Going Bovine. A Texas native, Bray moved to New York and began working in the publishing industry. She wrote her first young adult book after the urging of her husband, agent Barry Goldblatt, this book, A Great and Terrible Beauty, would go on to become a New York Times Best Seller. Most recently, Bray published Going Bovine, which was the 2010 recipient of the Michael L. Printz Award for excellence in young adult literature. Ms. Bray lives in New York City with her husband and nine-year-old son. More about Libba Bray can be found via her website, http://www.libbabray.com/.

Barry Goldblatt is the President of Barry Goldblatt Literary LLC, an agency representing the authors and illustrators of books kids, teens and adults of all ages. A longtime publishing industry professional, Mr. Goldblatt formed his own agency in 2000 which now represents such talents as Holly and Theo Black, Libba Bray, Shannon Hale, Cassandra Clare, and Lauren Myracle. Mr. Goldblatt lives in New York City with his wife, author Libba Bray, and son. More about Mr. Goldblatt and his agency can be found via http://bgliterary.com/.

After nearly ten years with industry powerhouse agency Janklow & Nesbit Associates, Kate Schafer Testerman formed kt literary in early 2008, where she concentrates on middle grade and YA fiction. Her clients include Maureen Johnson, Ellen Booraem, Stephanie Perkins, S. Terrell French, Thmas E. Sniegoski, Josie Bloss and Matthew Cody, among others. Kate is a graduate of the New York Renaissance Faire, and an avid collector of shoes. Her interests cover a broad range including teen chick list, urban fantasy and magical realism, adventure stories, and romantic comedies. She is an ative member of the SCBWI and AAR.

Jennifer Besser works as the vice president and publisher of G.P. Putnam's Sons Books for Young Readers, an imprint of the Penguin Young Readers Group. An editor of such notable books as Percy Jackson & the Olympians by Rick Riordan and Heist Society by Ally Carter, Ms. Besser has used her industry knowledge and experience to the young adult fiction genre.
Julie Strauss-Gabel works as an editor at Dutton Children's Books, an imprint of Penguin Publishing. Her involvement in YA literature spans many critically acclaimed novels such as Looking for Alaska, An Abundance of Katherines, and Paper Towns by John Green; If I Stay by Gayle Forman, and Put It On the List by Kristen Darbyshire. Inspired to work in young adult literature during college, Strauss-Gabel worked in subsidiary rights for publishing companies before securing an editorial post. Julie Strauss-Gabel joined Dutton in 2002.

Robin Wasserman is the author of several young adult books including Skinned, Hacking Harvard, Chasing Yesterday, and the Seven Deadly Sins series, which recently aired as a Lifetime Original Movie. She grew up in Philadelphia, went to Harvard, and, for her very first task at her very first job out of college, was assigned to scour the city for a miniature red carpet that could be rolled out for J. K. Rowling's imminent arrival. (She failed.) More information about Robin Wasserman can be found on her website, robinwasserman.com.

Rebecca Sherman is a literary agent for the publishing company Writers House, based in New York City. With over eight years of experience in the industry, Sherman has worked with such authors as Grace Lin, author/illustrator of Where the Mountain Meets the Moon; Andrea Davis Pinkney and Brian Pinkney, author and illustrator of Sit-In; and David Ezra Stein, author/illustrator of Leaves. She also represents Melissa Anelli, author of the New York Times best-selling Harry, A History. Further information about Rebecca Sherman can be found on the Writers House website, http://www.writershouse.com/.
Those attending LeakyCon will have a big discount to this event, and because part of Leaky's aim is to encourage youth interaction with literature, any attendee from age 13 to 17 will go for less than half price. Pricing is currently as follows:
Public, non-LeakyCon-registrant: $125
Public, non-LeakyCon youth: $50
LeakyCon Registrant: $75 add-on to registration
LeakyCon Youth Registrant: $25 add-on to registration
More featured guests will be added as we get closer to the event, and registration will open shortly!