LeakyCon 2011 Registration is Now Open!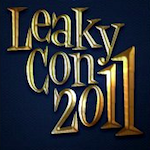 Jul 19, 2010
At long last, registration for LeakyCon 2011 is open!
For those unfamiliar, LeakyCon is The Leaky Cauldron's charity conference, a sequel to our 2009 event. This will take place July 13-17, 2011, on the same weekend as the opening of the final Harry Potter film, Harry Potter and the Deathly Hallows, Part II. It will be in Orlando, FL, at the Royal Pacific Hotel, which is a short boat ride from Universal's Wizarding World of Harry Potter theme park. That weekend – of endings, and beginnings – promises to be very special for ALL Harry Potter fans; not since book seven came out has it been more important to be together. We cannot wait to be with you for it.
We have big things planned, including a special event at the theme park, Lit Day (celebrating literature with some of the best writers, editors and agents around), podcasts, music, and much, much more, all in the community spirit that gave LeakyCon 2009 its trademark. Come celebrate with us.
Click here to get started on your registration, read more about the various levels of registration, and more!