"Deathly Hallows" Video Game to be Kinect-Compatible, Phelps Twins Demonstrate Gamepaly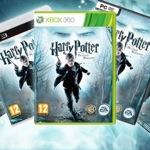 Aug 17, 2010
News has come from a press conference as part of Electronic Arts (EA) GamesCon 2010, regarding a new spell casting ability appearing on the "Harry Potter and the Deathly Hallows" video game. The forthcoming game will be Microsoft Kinect-compatible, which will allow for players to "cast spells offensively and defensively." This feature will be available on the XBox 360 platform when the game is released in November. Actors James and Oliver Phelps (Fred and George Weasley) appeared as part of the press conference, and, as report on GamePro.com relates:

James and Oliver Phelps, who played the Weasely Twins in the film franchise, entered onstage with a small firework explosion and demoed the game. The twins shot spells by moving their hands in the way they would a wand, while casting defensive barriers by holding up both hands.
An press release from EA notes:

With all of the action taking place outside of Hogwarts for the first time, Harry Potter and the Deathly Hallows – Part 1 sees Harry on the run with a horde of merciless enemies on his tail. Players will find themselves in unknown territory, far from the safety of the school grounds, fighting for survival at every turn. The new game engine, built specifically to leverage the technology of HD consoles, ensures high definition graphics and intense action gameplay on all platforms while the Kinect experience on Xbox 360 offers exclusive challenges, for either single player or two player co-op, playing as Harry, Ron or Hermione.
"Harry Potter and the Deathly Hallows ' Part 1 is non-stop action with Harry defending himself against a host of menacing enemies' said Jonathan Bunney, Vice President and Head of Production at EA Bright Light Studios. "Our Kinect challenges allow players to literally cast magic from the palm of their hand, completely controller free, to enhance and deepen the overall play experience; and, even better, we have enabled a special co-op mode with Kinect allowing two people to fight Death Eaters side-by-side for the first time in any Harry Potter game."
Video of the Phelps Twins at the event can be viewed via this link.
Many thanks to Erna and SS!