Happy Birthday, John Dawlish!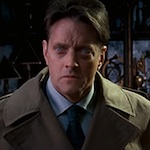 Sep 07, 2010
Or is it John Noe? We don't really know anymore: in any case, today we wish a happy birthday to Leaky's lovable John, who has made such an impact on the Harry Potter world that his name has been given to a sixth-tier, formerly first-name-less character (who got an Outstanding on all his O.W.L.s, and pwned by Grandma Longbottom). Of course, John would say that he was set up. Both Johns would. But really, Dawlish is not the least apt comparison for our John, who is brighter than most people assume and yet goofy enough to fall prey to the spunkier among us. And we love him for it. (I'm luckiest of all to have John as my best friend and confidante. Love you much, J.)
So, if you've ever enjoyed a PotterCast, if you have enjoyed Leaky since he joined it in 2003, please join us in wishing John Noe the very happiest of birthdays! Or just do your very best "Dawwwwwwwwlish!" impression and leave it at that.