PotterCast 226: The Secrets of Shell Cottage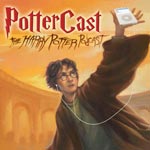 Sep 18, 2010
The 226th episode of PotterCast, our Harry Potter podcast, is now online for your listening pleasure, as well as your visual enjoyment! In this episode, the PotterCasters give you a rundown of the latest Harry Potter news, walk you though the latest Deathly Hallows Bit by Bit, bring you their newest segment Final Films Forecast, and wrap up the show with the usual amount of silliness and fun. In Final Films Forecast, the PC Trio will start by walking through the first part of the Deathly Hallows film, based on the trailers, stills, and previews which have come online.
To listen, you can use iTunes or direct download! You don't need to own an iPod to listen to PotterCast.
Also, don't forget: you can watch the entire episode right here via our YouTube channel!
As always, special thanks go out to our ever-vigilant and wonderful mods for monitoring the live PotterCast recordings.
LeakyCon 2011: A Harry Potter Conference in Orlando!
"Harry, A History" Website
Podcast Alley
Digg