Confirmed: AVPM's Darren Criss Cast on FOX's "Glee"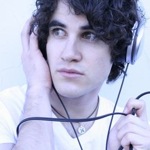 Sep 26, 2010
There is a bit of fandom news online today, for Harry Potter has gotta get back to McKinley High. Entertainment Weekly is reporting that actor and singer Darren Criss, star of the popular fan-created YouTube musicals "A Very Potter Musical" and "A Very Potter Sequel," has been cast on the also popular FOX television show, "Glee." The article goes on to say that Criss has been cast as "Blaine"a cute and charismatic gay student from a rival Glee club named the Dalton Academy Warblers"will maintain a strictly platonic friendship with McKinley High's most out and proud pupil" (Kurt, portrayed by actor Chris Colfer). Mr. Criss received his role on the show following his submission of an audition tape as part of an open casting call "Glee" producers held this summer. As readers will reacall, Leaky conducted an interview with Criss and his fellow "A Very Potter Musical" creators in 2009, which can be seen via this link.
"Glee" airs Tuesday evenings at 8/7c on the FOX television network in the States.
Update: Leaky has confirmed this casting to be accurate. Criss' role is to involve the story line involving Kurt's boyfriend, says a source close to the casting.
Many, many thanks to Andrew!