"Half-Blood Prince" Receives Two BAFTA Nominations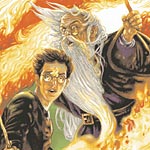 Jan 21, 2010
The final set of nominations for the 2010 Orange British Academy Film Awards, the BAFTAs, have been announced, and include two nominations for the "Harry Potter and the Half-Blood Prince" film. First, the sixth Potter film was recognized in the category of Production Design, along side such other films as "Avatar," "District 9," "Inglourious Basterds," and "The Imaginarium of Doctor Parnassus." A second nomination comes in the Special Visual Effects category, which has nominated "Half-Blood Prince" alongside "Avatar," "District 9," "The Hurt Locker," and "Star Trek."
On a related note, "Harry Potter and the Deathly Hallows: Part 1″ composer Alexandre Desplat has been nominated in the Music category for his score of the "Fantastic Mr. Fox" film. The 2010 BAFTAs are slated to take place Sunday, February 21st, in London.
Thanks to Erna!
Many congratulations to all!