Dobby Voted One of the "Most Downtrodden (Yet Inspiring) Characters in Movie History"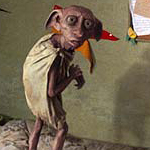 Jan 28, 2010
Empire Online has named Dobby as one of their eight "Most Downtrodden (Yet Inspiring) Characters in Movie History." Wall-E, Spartacus and Napoleon Dynamite were amongst the other "luckless individuals who at least make our lives better." The feature provides a background on both why Dobby is so miserable and so inspiring. Quotage:

Dobby continues to play a heroic role throughout the series, always putting the welfare of others before his own, and plays a role out of all proportion to his size.
The full feature can be found on the Empire Online website right here.
Thanks very much to Gazza for the tip!