Wizarding World's Hogwarts Castle Feels "about 700 feet tall;" More on Butterbeer at the Park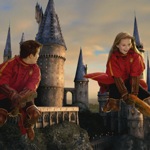 Jan 30, 2010
Additional details from the recent reveal of new information about the Wizarding World of Harry Potter theme park have come online via two new reports via MTV. First, the subject of the towering Hogwarts Castle is discussed here by Thierry Coup,VP of Creative Development at Universal, who relates that "I can tell you when you stand in front of it, it appears to be about 700 feet tall. Truly, you cannot tell how big it is, it's just impossible. The castle itself, of course we couldn't make it 700 feet tall, but it's definitely about 15 stories tall. It just feels like it goes forever. It's gigantic." The article goes on to mention collaborative efforts with the Harry Potter films' production designer Stuart Craig and art director, Alan Gilmore, who worked closely with the Universal team. Quoteage:
The rooms are supposed to be very accurate representations of the interior of Hogwarts " so much so that most of the props used in the rooms are the actual props from the films and are on lease from Warner Bros. Later releases from Universal will tell which rooms are going to be included in the castle " and whether actual actors will be recreating the scenes promised for the Forbidden Journey ride.
The report continues:
The castle houses the ride Universal is being most hush-hush about: Harry Potter and the Forbidden Journey. According to yesterday's USA Today article, the ride "uses robotic arms to move passengers in various ways as they pass through scenes from the movies."
Coup told us, however, that the waiting line for Forbidden Journey will offer as much excitement as the ride itself. When we asked him how young children would feel about some of the rides, he said even if they don't want to ride Forbidden Journey, the walk through Hogwarts castle would be worth it because they would be able to "visit all the iconic rooms" described in the "Harry Potter" books and movies.
The second article contains a small note about the creation of butterbeer for the Harry Potter theme park, which features Mr. Coup saying:
"It was really fun to be a part of the whole tasting different [attempts at butterbeer] to try until J.K. Rowling really felt, okay, this is it, this is what I always thought butterbeer should taste like. It was a very exciting moment to see her smile and actually taste it. It's a delicious thing, first of all. It's everything you expected it to be."