Empire Magazine Scan Online; Dan Radcliffe Talks Seven Potters Sequence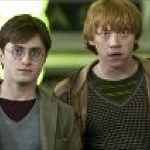 Jan 05, 2010
Thanks to reader Euan we now have a scan of the February 2010 Empire Magazine feature on the upcoming "Harry Potter and the Deathly Hallows: Part I" film. Available to view right here, this short preview includes actor Dan Radcliffe (Harry Potter) and director David Yates relating their experiences and feelings about the final film. While describing the "Deathly Hallows" film as the "hardest film to do," Mr. Radcliffe noes that "as long as you equal that kind of toughness with your enthusiasm, then it sort of goes away." The young actor goes on to mention filming the flight of the seven Potters sequence by saying: color="#500050″>

"We are actually filming what is probably the single most complicated sequence we've done in any of the films. Everyone's changing into me and nobody really knows what's going on. I'm dressing up as everyone else ad they're dressing up as me, and, well it's very confusing."
In regards to Part Two of the final Potter film, director David Yates feels that each film is "very different." He relates:

"Jo [Rowling] described the book as a bit of a road movie so the first of the two movies is gonna feel very much like that. I watched the first assembly of Part One just last week, and the most interesting dynamic is that you're taking these three characters we know quite well away from the comfort zone of Hogwarts. ANd you really can't underestimate the odd power of that."
"Harry Potter and the Deathly Hallows: Part One" is slated for a November 2010 release.