Become Undesirable No. 1!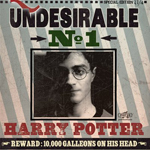 Oct 22, 2010
Posted by John Admin
In anticipation of "Deathly Hallows: Part 1″ (now less than a month away!) the official Harry Potter site is letting you put your picture into an Undesirable No. 1 poster. You can go here and put your photo in and become wanted by Ministry of Magic.