Additional Videos from J. K. Rowling's Interview on the Oprah Winfrey Show Available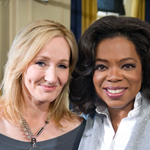 Oct 03, 2010
Oprah Winfrey's website now has some footage from her interview with J. K. Rowling that did not air during the show:
"Living in a Potter Household"
"The Long Road to Success"
"J. K. Rowling's Aha! Moment" – can you spot the reference to "Harry, A History" here?


"A Special Fan Letter to J. K. Rowling"
You can see the complete interview here. Thanks very much to Yardly for the tip!