LeakyCon 2011 Announces Wizard Rock Lineup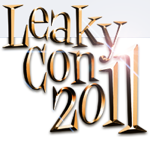 Oct 05, 2010
LeakyCon 2011, The Leaky Cauldron's charity conference being held in Orlando, Florida, in July, is proud to announce its wizard rock lineup! This stellar list of groups will be playing over two shows at the conference:
We are thrilled to have such an amazing group of performers! ALSO, we will be announcing, at a later date, acoustic performances from more bands in the conference's Room of Requirement.
Entrance to both wizard rock concerts is free with basic registration.
This is just the start of our programming announcements for LeakyCon – we have another guest announcement coming tomorrow. We can't wait to see you there this summer!
LeakyCon is set for July 13-17 at the Royal Pacific Hotel in Orlando, FL, the same weekend as the release of the final film in the Harry Potter franchise. Basic registration rates will go up for the first time on October 10, 2010 – so don't wait! Visit LeakyCon.com for more! To register, visit this page and start the process.