Leaky's Daily Quotedown to Deathly Hallows: 44 Days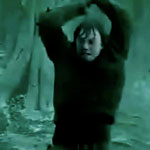 Oct 07, 2010
There are now only 44 days left until "Harry Potter and the Deathly Hallows: Part I" hits theaters! We are posting a quote from the first half of the book every day in celebration and to give us a chance to discuss and ponder the final book as it goes to film. Here is today's quote!

The moment his eyes fell upon Ron, all other concerns fled Harry's mind, for blood drenched the whole of Ron's left side and his face stood out, grayish-white, against the leaf-strewn earth. The Polyjuice Potion was wearing off now: Ron was halfway between Cattermole and himself in appearance, his hair turning redder and redder as his face drained of the little color it had left.

"What's happened to him?"

"Splinched," said Hermione, her fingers already busy at Ron's sleeve, where the blood was wettest and darkest.
Harry Potter and the Deathly Hallows, "The Thief"