Singing Our Song at Hogwarts: Potter Puppet Pals to Perform at LeakyCon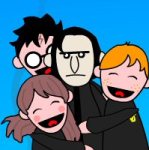 Oct 07, 2010
We are thrilled to officially announce that The Potter Puppet Pals, the most successful Harry Potter related YouTube act of all time, will be joining us at LeakyCon 2011, Leaky's charity conference that will take place in Orlando, Florida, the weekend of the release of the final film in the Harry Potter franchise. This will be the Potter Puppet Pals' first live conference performance ever.
Neil Cicierega and his crew are behind a viral Potter puppet act that has garnered a staggering 172 million views to date. Through comedy and puppetry Cicierega and his friends have created a loyal fanbase as active and avid as that of the Harry Potter series itself. The video Mysterious Ticking Noise" is one of the most viewed YouTube videos of all time, considered nearly required viewing for a Potter fan; it was the winner of the best comedy video in the 2007 YouTube Awards and has been mentioned by Daniel Radcliffe as something the Potter actors joked they would like to recreate themselves.
Precise details on the ways in which the Pals will be presented at the conference will be released at a future date!
LeakyCon is set for July 13-17 at the Royal Pacific Hotel in Orlando, FL. Basic registration rates will go up for the first time on October 10, 2010 – so don't wait! Visit LeakyCon.com for more! We can't wait to have you there!