LA Times' HeroComplex Blog Interviews Jason Isaacs and Prop Master Barry Wilkinson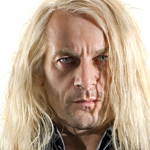 Nov 01, 2010
The newest installments in the LA Times HeroComplex Blog's countdown to "Harry Potter and the Deathly Hallows: Part 1″ include an interview with Jason Isaacs (Lucius Malfoy) and the films' Prop Master, Barry Wilkinson.
Wilkinson — who worked as prop master for all eight "Harry Potter" films and in 2008 received the BAFTA for Outstanding British Contribution to Cinema — states that over 500 wands were manufactured for the two-part finale alone, with everyone possessing their own individual "continuity wand, even down to the Death Eaters" and a number of duplicates:

[B]ack-up wands for main characters, rubber wands for stunt work, "fast-cast" wands for background shots and more generic wands for crowd scenes. Factor in the previous films and Ollivander's Wand Shop, which was fully stocked, and the wand count easily reaches the thousands.
Wilkinson describes the task of packing everything away at the end of the 10 years on the films as "huge," explaining, "At the moment, we've got 104 containers full of props and set dressings, which have now got to be lifted and archived and accounted for." You can read more from this interview here on the HeroComplex Blog.
In the second interview with the actor behind Lucius Malfoy, Jason Isaacs is asked about the parts of the Harry Potter films to which he "can't bear to say goodbye." The actor responds:

Most sets are places with a throbbing undertone of fear that everyone's taken the wrong job in the wrong thing. That no one's going to watch the film, no one's going to like the story, no one's going to work again. Actors generally can float above that stuff, but there's something very different going on with "Harry Potter." You know you're making a story that you love taking part in and that you know people will obsess over. It's the difference between throwing a party and wondering if anyone's going to come and having the party people are having to wait to get into.
As he has in previous interviews, Isaacs additionally cites being a member of the cast alongside actors such as "Maggie Smith and Alan Rickman and Bill Nighy and Jim Broadbent and Imelda Staunton and on and on" as part of the privilege of working on the series.
Isaacs also commented on the progression of Lucius' character through the book series in contrast with his expectations for the character's fate:

I was hoping [Lucius would] get his comeuppance at some stage. But I didn't imagine I'd be so publicly deflated and humiliated. Lucius thought he'd stand by Voldemort's side and fall with him. Instead I've been completely emasculated by him and rejected by everybody, and as an actor it's a tremendously juicy thing to do, not play the same part time after time.
You can read the full interview, which includes talk of the wig and Isaacs' self-described "slightly sniffy" initial attitude about the Harry Potter series here on the HeroComplex blog.