HP Alliance Launches Deathly Hallows Campaign: Fight the Starvation Wages Horcrux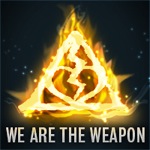 Nov 01, 2010
Yesterday, at a two hour long LiveStream event, the Harry Potter Alliance officially launched The Deathly Hallows Campaign, which will span nine months and calls Harry Potter fans to help destroy seven real world horcruxes.
The first horcrux to be destroyed is the Starvation Wages Horcrux. The Harry Potter Alliance today sent a letter to the parent company of Warner Bros., Time Warner, asking them to change to Fair Trade chocolate for its Harry Potter merchandising. On behalf of The HPA, its Executive Director Andrew Slack writes:
I applaud Warner Brothers' ethical sourcing guidelines regarding child
labor and in the past I have appreciated talking with Mr. Bishop about
Frankford Candy Company's appreciation of corporate responsibility.
Unfortunately when it comes to chocolate, the world has embarrassingly
low standards for what it deems ethical, so much so that a great deal of
our chocolate comes from farmers who continue to be exploited and
pushed into situations that perpetuate poverty and, in many cases,
children who are enslaved on cocoa plantations. This problem is so
widespread that the only way to guarantee that the chocolate products
that are sold in the name of Harry Potter are not coming from such
exploitative situations is to source them and sell them under the Fair
Trade system and label.
You can sign a petition in support of the campaign here on the HPA website. The Harry Potter Alliance sent out an email this morning with the remarkable announcement that in under 24 hours since the campaign's launch, over 1,600 signatures have already been collected. But we can't stop there.
Print out the petition from this link and get your friends, family, school peers and community to sign. Tweet a message of campaign support, such as the example below, in order to spread awareness:
I signed @thehpalliance's petition for Harry Potter chocolate to be Fair Trade @twxcorp #deathlyhallows http://t.co/LdijnBE
Additionally, the campaign against the Starvation Wages Horcrux is an HPA House Cup competition. The House with the most signatures by the 31st of December, 2010 (at which point the petition is no longer available to sign) will have a Wizard Rock band write a song about how they won the contest. The HPA website names three ways you can help your House prevail:
1. Sign the petition with your name and House.
2. Encourage your fellow Housemates to sign the petition.
3. Ask your friends/family to sign the petition.
The House Cup Winner will be announced on the 1st of January, 2010.
Lastly, the HPA is inviting its chapters and members to host Lumos Parties on the 19th of November as you watch "Harry Potter and the Deathly Hallows: Part 1." More details about what that entails can be found via this link.
Find out more information about the campaign here on the HPA website. You can watch the live stream of the campaign's launch at this link.